Used Tekcast Spin-Caster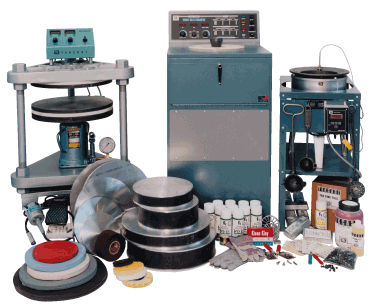 All the equipment for your Used Tekcast Spin-Caster needs.
- 20" SERIES 100-D TEKCASTER
- GAS NO. 160 METAL MELTING FURNACE
- 20" TEKCAST HYDRAULIC VULCANIZING PRESS
- AUTOMATIC DIGITAL TEMPERATURE CONTROLLER
Make your own zinc, pewter, lead, plastic or wax casts.
$14,999 or best offer.
Click here to contact us!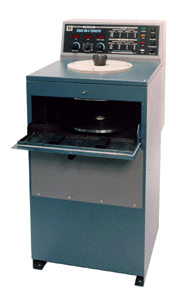 20" SERIES 100-D TEKCAST SPIN-CASTER
Features include:

PATENTED FRONT LOADING DESIGN: The easiest, simplest, and least-fatiguing Spin-Caster to buy. No heavy mold cover plate to handle each cycle. No machine lid to open and close. No clumsy lift-over of molds. All mold handling is done at waist level, allowing much higher production capabilities.
PRECISION CONTROL PANEL: Easy to read and access. Incorporates the highest state of the art in electronics and controls for all Spin-Casting functions. Attractive rear mounted control panel, eye level, contemporary styling, dust and water resistant. Finger touch controls.
POUR INDICATOR: Audible beep and LED light indicates correct pour time. When the selected RPM speed is reached, the pour light comes on with audible beep indicating when to pour casting material.
AUTOMATIC START FEATURE: The series 100 operates in either automatic or manual start mode. Operator selectable automatic start for quicker cycling and higher production requirements.
"TEK EASY-START REFERENCE CHART": Usually, when spin-casting a new mold for the very first time, the best casting parameters have to be determined and established. With the Series 100, the operator simply refers to the mold size and the casting material (metal, plastic or wax) selections on the Control Panel to select the ideal starting parameters.
DIGITAL CONTROL PANEL - FULL INSTRUMENTATION: Micro processor controlled functions; digital readouts for speed, time and pressure. Large and easy to read LED numerals. Permanent magnet DC motor, SCR speed control, circuit breakers, reversing switch, on/off switch, auto/manual cycle start selector, combination start/cycle pause button, cycle status indicating lamps.
MOLD AIR CLAMPING SYSTEM: Provides air clamping with power up and power down for faster productivity. This new system has internal components that have been permanently coated with Teflon and does not require any lubrication whatsoever. It is engineered to very close tolerances to assure smooth and maintenance free operation.
AUTOMATIC MOTOR SPEED CONTROL & BRAKING SYSTEM: The solid state motor controller is designed to give accurate and instant speed control from 100 to 1,000 RPM. This feature incorporated with our dynamic, quick acting, electronic safety braking system, puts the Series 100 a major step ahead for production and safety.
IDEAL BALANCE: The Series 100 is designed with our precision machined and balanced mold clamp and spinning system for smooth running and high performance operation.
AUTOMATIC MOLD CENTERING DEVICE: Perfectly centers and helps balance any size mold quickly with positive seating. Requires no mold size adjustments, centering pins or guides. SUPERIOR CONSTRUCTION, STAND ALONE DESIGN: The Series 100 is a self-standing unit with a reinforced heavy-duty steel base. It requires no table. Metal flash guard inside spin chamber for easy flash clean out. COMPLETE SAFETY: Interlock mold clamping and locking system automatically locks the mold door during the entire spin cycle. Mold clamp cannot release in the event of sudden power failure. During operation, there are no rotating mold or machine components exposed.

GAS NO. 160 METAL MELTING FURNACE
Gas-powered - will quickly melt a variety of metals, such as: zinc, pewter, lead and tin.

MAXIMUM TEMPERATURE 1000 Degrees F/540 Degrees C - heavily insulated for efficient energy use and safety.
Includes all the following components:
•• Furnace •• Cast Iron Pot •• Furnace Stand •• Basotrol Combo Gas Solenoid and Safety Valve •• Auxilary Pilot Burner •• Flame Sensor •• Main Pilot Burner •• Automatic Digital Temperature Controller DT-3 •• Thermocouple (K type) with Protection Tube and Mounting Bracket.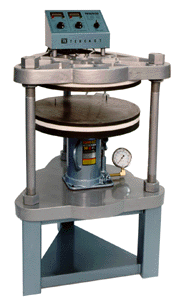 20" TEKCAST HYDRAULIC VULCANIZING PRESS
Trouble-free, highly accurate and efficient vulcanizing. Features include:


UNIQUE 3 POST DESIGN: TEKCAST'S three post construction with fully adjustable columns permits precise alignment for consistent parallel platen positioning. Easily adjustable by operator.
HIGH QUALITY, PRECISION BUILT CONSTRUCTION: Each Vulcanizer is made of high-grade steels and fine-grained, high tensile ductile iron castings. Precision machining and assembly assures critical control of mold shape during the vulcanizing function. Working platen surfaces are warp resistant and precision ground to assure perfect flatness.
INDEPENDENTLY SUSPENDED BOTTOM PLATEN: The platen is mounted on a hydraulic jack ram, thus completely eliminating ram plate jamming.
INDEPENDENT DIGITAL TEMPERATURE CONTROLS: Separate temperature controllers for each heated platen provides + or - 1o F accuracy at point of control. Indicator lights for each platen reduce operating errors and improve safety. Digital Controls on 18" - 30" units, optional on 12" units.
FAST, EFFICIENT, LONG LIFE HEATERS: Superior quality silicone encased electric pad heaters, specially designed by TEKCAST, have excellent all-over heat pattern to insure uniform temperature throughout. Vulcanization begins in less than 25 minutes. Heaters are long life, but easily replaceable. Rated 10 Watts per square inch.
AUTOMATIC CYCLE TIMER: 5 hour timer provides automatic on/off control.
EASY TO OPERATE, TROUBLE-FREE JACKS: Each jack is "Unibuilt": one-piece all welded construction to provide a solid, leak-proof, sealed system. Jacks are equipped with a safety bypass valve and guaranteed against all defects in workmanship for one year.
EASY TO READ PRESSURE GAUGE: Pressure gauge is large enough for easy reading and calibrated to show pressure in psi and tons.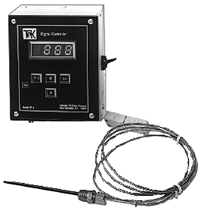 DT-3 CONTROLLER



"EXCLUSIVE TEKCAST DESIGN"
This new, state-of-the-art Automatic Digital Temperature Controller features push-button microprocessor control with digital readout in degrees both F and C; from 0 to 1000 F (or 0 -540 C). Offers extremely accurate readings in degrees (+ or - 2 F/1 C), automatic set point, noise protection, key on/off switch. Aluminum housing, 110/220V. (Includes: DT-3, Thermocouple and Bracket.)



Click here to contact us!




Also, view examples of products this equipment helped create at the Howard Models Website




spin-casting Tekcast Spin-Casting Spin-Casting Equipment Pewter Casting Zinc Casting Tekcast Vulcanizer Tekcast Spin-Caster Casting Equipment
Spin-Caster Spin-Caster Prices Casting Equipment Prices Spin-Caster for sale Tekcast Spin-Caster for sale Spin-Casting Equipment for sale Casting Equipment for sale Used Spin-Caster
Used Casting Equipment Used Spin-Casting Equipment Used Tekcast Spin-Caster Used Tekcast Vulcanizer Laser Cutter Laser Cutting Laser Cutting System Laser Cutting Equipment
Laser Engraving Laser Engraving Equipment Universal Laser System Universal Laser Cutting System Universal LCS Used Laser Cutter Used Laser Cutting System Used Laser Cutting Equipment
Used Laser Cutting Equipment Used Universal Laser System Used Universal LCS Laser Cutter for sale Laser Cutting System for sale Laser Cutting Equipment for sale Laser Engraving Equipment for sale Universal LCS for sale